Update Februari 24 A lot in the news, Russians all over the world watching how they can destroy things #ruZZians #gohome Do you want this #poster? (17x23")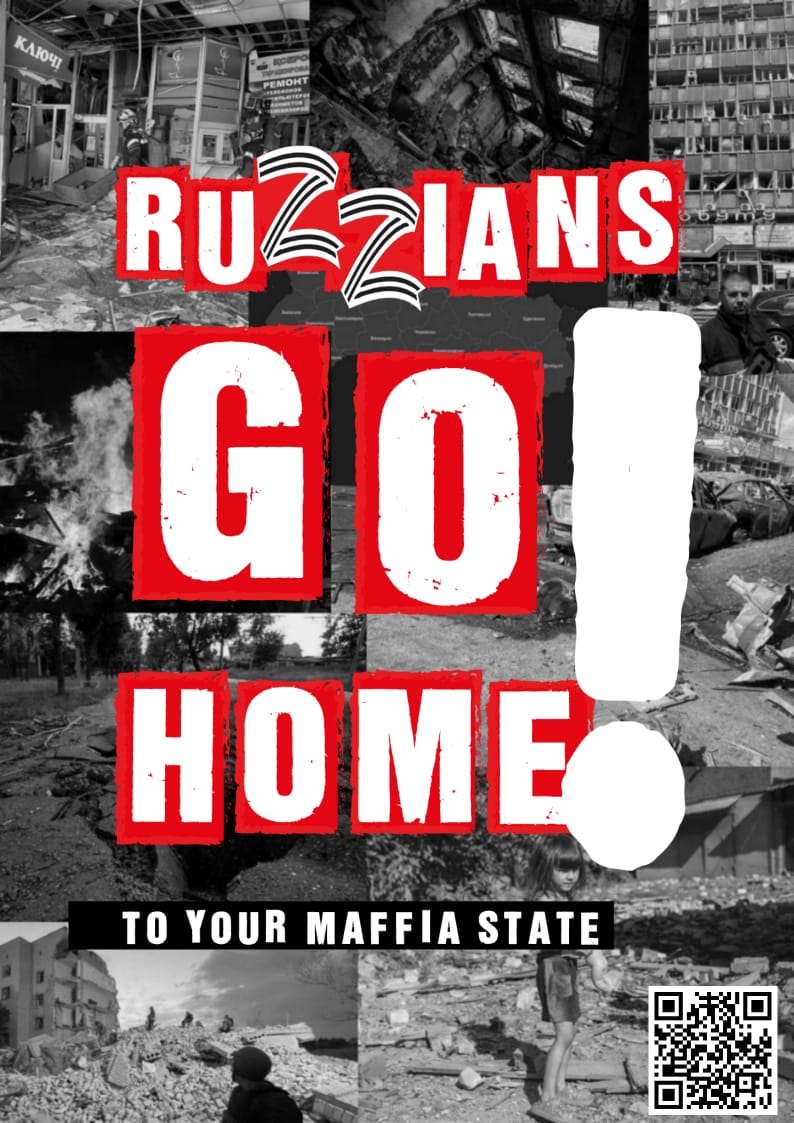 Send name/address to *POSTER* and deposit (possibly) a small amount for the costs via donate and state POSTER.
Update November 14 This weekend Eyes on Ukraine has again brought 6 drones to Lviv. But now we also brought a old (1985) Suzuki SJ-413 and again 11 generators. 10 petrol and a 130 kg diesel generator. The diesel generator was a bit heavy, that's why it is not on the generator 'pyramid' video on social media, made by our partne KOLO!
Update Oktober 23 This weekend Eyes on Ukraine has again brought 12 drones to Lviv. But more importantly, we also brought a caravan and 12 small 2Kw generators, 43 kg each, to supply elektricity in regions that are now cut off from power.
Update September 28 This weekend Eyes on Ukraine has again brought 45 drones and Tourniquets and Chest seals to Lviv. On the way in Poland the van broke down and it took a very long time to get some help. In the end we went with the van on a trailer to Ukraine. For the first time we also brought DJI Air 2S and DJI Mini 3 drones.
Update Juli 19 This weekend Eyes on Ukraine has again brought 51 drones and tablets and Tourniquets and SAM packs to Lviv, it was a beautiful journey but a sad occasion. Included were 10 large drones (7x Autel EVO2 v2 + 3 DJI Mavic 3). The tablets will be used to connect to the drone controllers so that the pilots will have a wider view!
Major change of our mission June 26: After delivering a lot of DJI Mini 2's drones to Ukraine, it is now, after evaluating with our Ukrainian partners, time for a change. We are now aiming for drones that can fly higher because of a better zoom range. This makes them less sensitive to electronic disturbance by the aggressor. These drones cost about € 2,500 each including accessories. So if you now donate € 500 it will be for a fifth drone!
Update June 7 This weekend Eyes on Ukraine has again brought 86 drones to Lviv, the car was full to the brim. The drones go to various recipients, which were very gratefully Army officer Anatolii who will deliver seven drones and the Toyota Landcruiser to the front. Now Eyes on Ukrain will go back to the Netherlands by train and prepare for the next four-wheel drive, which we will hopefully be able to deliver soon, filled with drones and Med kits.
Update June 1 We are leaving for Ukraine again, with 86 drones in a Toyota fourwheeldrive, also donated. But you can still donate, there will be a next ride.
Update April 26 We have delivered another 57 drones to Ukraine, so now a total of 346 eyes in the Ukranian sky. This time in addition to 32 DJIs ...Read more.
Update April 6 We have delivered drones to Ukraine again, prepared drones, 101 to be exact. And everything else we were offered has also been delivered, from hundreds of power banks to the 4x4 we left behind.
We gladly continue after this ride, so donations (financial or material) are very welcome! If you have a proposal, we like to hear from you: info@eyesonukraine.eu
Update March 15 We were able to deliver the first shipment of 188 drones to Ukraine: read here. The demand for drones is huge, requests are pouring in through a network of local journalists. So we want to drive again soon.
Our Mission: Eyes on Ukraine
is striving to get as many drones as possible in the air over the places in Ukraine where fighting is going on, so the truth will not perish in this war. If people are able to film on the spot with drones we can all see what is happening. As a result, it will become much more difficult to deny attacks on civilian targets or the use of cluster bombs.
Why drones? Even now, we see videos everywhere of citizens filming with their smartphones, which is difficult and dangerous. When filming with a phone you need to be close by, in which case you can be seen and shot at. A drone is remotely controlled and the operator can be hidden, which is much safer. An aerial shot also provides an overview of the situation as well as of the details. The drones are asked for by the Ukrainians.
Won't the drones get shot out of the air? [Edit June 26th 2022: because of sensitivity for electronic disturbance, we don't use DJI Mini 2 anymore] The drones that we use (DJI Mini 2 or similar) still produce a sharp image at a height of 80 meters, so they are not easily shot out of the sky, they are hardly visible at that height. And will they still try to shoot them down, there will be fewer bullets for other targets. They are lightweight drones and therefore only suitable for filming and not, for example, as a weapon.
How much drones do you want? We will drive back and forth as often as needed, until there are no more drones to buy, or when the Ukrainians indicate that their demand is met. In that case, the remaining amount will be spend on tourniquets for soldiers (to stop the bleeding in case of a gunshot wound).

How does the financing work? Eyes on Ukraine is a foundation (Chamber of Commerce 85834122, ANBI !! 863759750. ). All costs for organization and transport are borne by the sponsor company and volunteers. Drones will be bought with every euro we collect.
The ANBI policy plan and publication can be found here. (ANBI=Public Benefit Institutional Institution)
Donate? Click here and choose your option of payment. Every amount is very welcome. The cost of one drone is (with SD-cards and car charger) about 2,500 euro now (was 570, was 550).
In rare cases we can accept used drones in good condition. Write to stating the drone and its condition.
Questions or advice? See 'frequent questions', or mail info@eyesonukraine.eu or meet us on Facebook, Instagram, LinkedIn or Twitter.